Noise Driven Ambient Audio And Visuals is a compilation of experimental noise/ambient videos created by C505 and music by KNBS. A far cry from music videos, the pieces are more analogous to experimental / abstract film and video art. C505's aesthetic shuns the pursuit of 3D digital realism and sanitized graphic design and instead embraces the layered residue of analog distortions and glitches. Uniquely, both the sound and video are created simultaneously by C505 and KNBS yielding a woven relationship that feels symbiotic instead of driven by one or the other. C505's favored techniques include, video feedback loops, video flicker induction, CRT distortions created by magnetic fields and capturing various visual and audio static from a multitude of analog sources. Over 50 minutes of content, this DVD also contains guest director's work such as Associates In Science, Lew Baldwin, Day-Dream, Jonathan Turner and WeWorkForThem.
REVIEWS
Res Magazine: Yoshi Sodeoka is a man of many hats, but when disguised by his pseudonym C505, it's clear he relishes the anonymity of the ski mask. His newest project, available from online design shop YouWorkForThem, hijacks the conventional wisdom of motion graphics in 2006, eschewing current trends toward digital realism for analog abstractions that hark back to the kaleidoscopic tones of 70's science fiction cinema. Each of the 13 shorts on Noise Driven Ambient Audio and Visuals is accompanied by minimal bursts of industrialized noise, courtesy of KNBS, who collaborated with C505 to create a soundtrack inextricably linked to its visual counterpart. Instead of a lifeless, sterilized display of masked images and simple after effects trickery, C505 cultivates an entire petri dish of organic living art using a multitude of analog sources, video feedback loops, magnetic field distortions, and other techniques. "Mesmerandom Part 1 & 2" moves from the dreamlike somnambulism of a yet-to-be-made Boards of Canada video to the seizure-inducing synaptic firings of hyper-edited anime, while "Absinthium" suggest a CAT scan gone horribly wrong. Never mind the famous frying eggs – this is your brain on drugs. Whether he's using ASCII to subvert the State of the Union or rendering a Lite-Brite for simple animations, C505 continues to shock and awe the design world with his unprecedented audio and video experiments. – Steve Marchese (May / June 2006)
Foxydigitalis: 9/10. The music video hype isn't half as big as it was when MTV started killing radiostars in the early 1980s. Still, millions of dollars, tons of bling and truckloads of wobbly ass are mandatory when promoting albums and singles. You got to have a musicvideo, if you don't; you won't chart; you aren't pop; you simply don't matter. For the masses this ridiculous statement is actual reality and Hollywood hotshots equally pride themselves for their bigger is better mentality. The noise scene isn't one to cater to the masses' needs so when visual artists and noise musicians get together to put together a DVD of videoclips, they're not in it to make a buck, they want to make a difference. And that's where this DVD not only succeeds, it's a mindfuck to be reckoned with and likely to set a standard as far as visuals and noise music go. Yoshi Sodeoka, aka C505, aka mindfuck-dealer and visual artiste co-signs for the music with Seattle based and self-aclaimed post-industrial noise artist, Sean Rooney. Besides the lively noisescapes he's produced eight of the thirteen visuals, the last five each directed by different video directors. Sodeoka applies a retro-ish attitude towards video. Analogue, aciddream inspired motives swirling around, morphing into everything imaginable and just straight up mindboggling pretty much all the time. Music and visuals were created simultaneously which enhances the complete experience by another notch. Sometimes glitchy and subtle but mostly ferociously blazing a bloody trail through your consciousness. With the lights out, feeling sleepy and strung out you actually find yourself inside the videos, picking your own brain apart while shitting out your ears. - Joris Heemskerk
Earplug: As motion graphics move toward unprecedented realism, a handful of artists have tapped into their recidivist tendencies and razed the contemporary notion of what 21st-century images should look like. One of the movement's most prolific artists is Yoshi Sodeoka, also known as C505, who worked with sound designer Sean Rooney to release Noise Driven Ambient Audio and Visuals, the newest DVD from online design shop YouWorkForThem. With over 50 minutes of content, the stunningly packaged DVD trips through 13 shorts, each exploring the nexus of digital and organic design — think D.A.R.Y.L., had he been forced to watch Videodrome on loop — while eschewing the current ubiquity of solid lines darting across your screen. Parts of the disc prompt memories of '70s science-fiction cinema (Logan's Run, Solaris), while others recreate an alien biochemistry that seems eerily of this world. The soundtrack, dotted with minimal electronics and occasional synaptic bursts of unrefined, industrial noise, was created simultaneously with the video, adding deeply organic textures that make it feel less like collaboration than spontaneity. If you ever wondered if there was a difference between video art and music videos, this is your answer, as each short exhibits a more evolved sense of spatial and artistic interplay. Sodeoka and Rooney have collaborated for more than ten years on a variety of music and art projects, which they have presented in exhibitions for museums and festivals like the Whitney Museum of American Art, San Francisco MoMA, and Sónar. Then again, an artwork as articulate as Noise Driven Ambient Audio and Visuals could only result from a shared brain that's evolved over the course of a decade. The DVD also contains work from guest directors such as Associates in Science, Lew Baldwin, Day-Dream, Jonathan Turner, and WeWorkForThem -SM
Exclaim! Magazine: This outstanding collection of extremely far-out experimental videos makes for wickedly intense viewing. Chock full of vibrant, hyper-speed images from very alien lanes of visual imagination, the 13 short flicks are heavy on the computer-generated effects and glitchy electro-noise accompaniment without feeling overly cold or sterile, thanks to the filmic ideas of organic process and emotional connection they incorporate. The opening eight are by this collection's renowned New York-based curator, C505 (or Yoshi Sodeoka), who also made the music as KNBS with Sean Rooney, and the final five are by guest directors with similarly abrasive soundtracks. All are mind-blowing. - Kevin Hainey (May 2006
ALL TRACKS BY
Sean Rooney (Seattle): DSP Hacks, Pedal Feedback
Yoshi Sodeoka: (New York): Guitar, Sequences, Samples
BIO
KNBS are a collaboration between New York based world renowned video artist and musician Yoshi Sodeoka and London based noted musician and programmer Sean Rooney. They have been collaborating for more than 10 years on a variety of music and art projects. Together they create dynamic music and visuals which are sometimes confrontational and noisy, and sometimes melodic and tuneful. KNBS have performed worldwide and their work has been featured on numerous CD compilations, DVDs, web sites and in exhibitions. Their work has been featured at Whitney Museum of American Art, San Francisco MoMA, Turbulence.org, OFFF in Spain, DOTMOV in Japan, Design Edge in Singapore, The Museum of Jurassic Technology in Los Angeles and The Sonar Festival in Spain to name a few.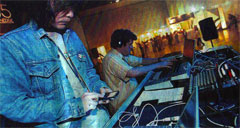 CONTACT
info@sodeoka.com
http://www.sodeoka.com